The Butterflies of the World Foundation
A Non-Profit Organization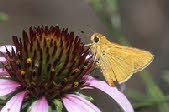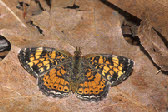 Ziba Scrub- Hairstreak
Strymon ziba, Hewitson, 1868
Subfamily Theclinae
Tribe Eumaeini
Strymon ziba, Foetoenakaba village, Suriname, 29 May 2007 Ref #: I-380-4.1
Taxonomy
The family Lycaenidae is a large and varied worldwide group that has 4,000 to 6,000 species depending on the ever-changing taxonomic flux. They are collectively called Gossamer Butterflies or Gossamer Wings. The family is further divided into eight subfamilies. The first is the Theclinae which includes the Hairstreaks, Sunstreaks, Elfins and others. The second is the Polyommatinae which includes the Blues, Azures, Arguses, Caeruleans and others. The third subfamily is the Lycaeninae which includes the Coppers, Sapphires, Silverlines and others. The forth is the Poritiinae which includes the gems. The fifth is the Miletinae which includes the Brownies, Harvesters, Darkies, Apeflies and others. The sixth is the Curetinae which includes the Sunbeams. The seventh family is the Lipteninae which includes about 500 tropical rainforest gossamer wings. The eighth and final subfamily is the Liphyrinae and includes the Moth Butterflies.
General Information:
Strymon ziba belongs to the subfamily Theclinae. It is found throughout parts of Mexico then south through Central America down to southern Brazil. Like many scrub hairstreaks, this butterfly is found in open areas from fields, edges of woods, roadsides, gardens and even vacant lots.
Lifecycle:
Not much is known about the lifecycle, but it is probably similar to other scrub hairstreaks with males perching all afternoon on small trees and shrubs to seek receptive females.
All photographs, artwork, text and website design are the property of The Butterflies of the World Foundation (unless otherwise stated) and are protected under national and international copyright laws. Photographs, artwork or text on this website may not be reproduced in any way without prior written consent of The Butterflies of the World Foundation.